Honey Sriracha Atlantic Salmon with Roasted Potatoes
Ingredients for salmon:
2.5 lbs fresh Atlantic Salmon, I usually purchase one large piece (skin on or removed)
3 tablespoons Tamari soy sauce (coconut aminos work in place of soy sauce)
2 tablespoons honey
2 tablespoons lime juice
1 tablespoon sriracha ( you can add more if you like spicy)
2 garlic cloves, minced
sea salt and pepper to taste
Directions:
Preheat oven to 400 degrees F
I like to check over the salmon fillet for bones and trim any tiny ends off, then I prefer to cut into 2-3 inch pieces.
Next, place salmon into a 9 x 13 olive oil greased baking dish.
Mix honey, lime juice, soy sauce, garlic and sriracha together until fully incorporated.
Pour mixture over salmon and season with sea salt and pepper to taste
Bake salmon uncovered for 14-16 minutes until done.
Garnish with fresh sliced scallions and serve.
Potatoes:
2 lb. bag of baby Yukon gold potatoes
cut potatoes in half and toss in 2 tablespoons olive oil
add 1 tablespoon of McCormick's Perfect Pinch Garlic and Herb seasoning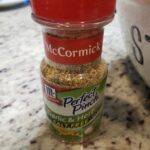 add 1 teaspoon dried Italian seasoning
1/2 teaspoon kosher salt and black pepper to taste
Cover a baking sheet with foil, place potatoes cut side down to start and bake at 400 degrees F for 20-25 minutes or until fork tender.
Once tender, turn potatoes cut side up, turn on broiler on high and broil potatoes for 2-3 minutes or until they get a nice crisp on them. Remove from broiler and transfer into a serving dish and garnish with parsley and chopped chives.