Pear, Goat Cheese, Prosciutto, and Caramelized Onion Pizza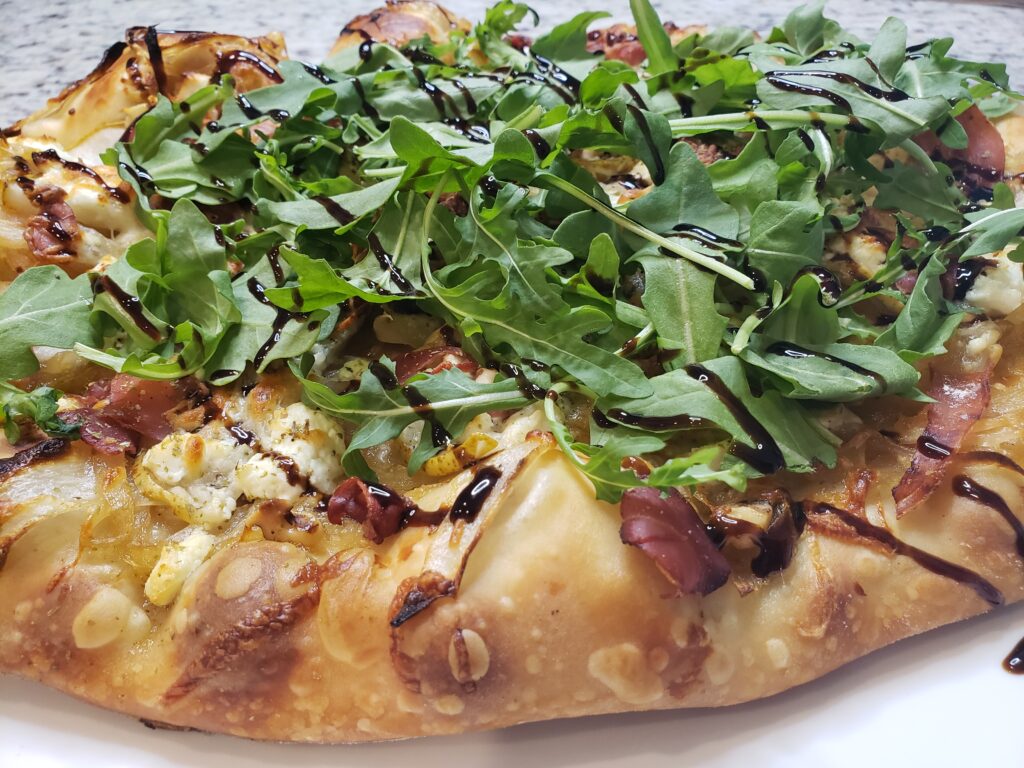 Pizza dough may be store bought or made, here is a simple dough recipe I like to follow:
Pizza Dough:
2 cups self-rising flour, plus more for dusting
1 cup full-fat Greek yogurt
In a large bowl, mix flour and yogurt with a fork until it all incorporates together. On a well flour dusted work space knead the dough until it is smooth and slightly elastic (approximately 8 minutes). if dough starts to feel dry, add water one tablespoon at at time and continue to knead until soft and pliable.
This dough will make one extra large pizza or you may divide it to make two 10-inch pizzas. Roll the dough until desired crust thickness. Flour a baking sheet or pizza peel and place your rolled out dough on top. Set aside while you prepare your toppings.
Topping Ingredients:
1 Large Onion, sliced
1 tablespoon olive oil
3 garlic cloves, minced
4 tablespoons cream sherry wine
1 tablespoon brown sugar
6 slices prosciutto, diced
4 ounces goat cheese ( you can use crumbles or tube)
1 large pear, cored and sliced
1/4 cup walnuts
1/2 cup shredded Italian cheese blend
2 teaspoons dried Italian seasoning
arugula to taste
balsamic glaze to drizzle
sea salt and pepper to taste
1 extra tablespoon olive oil to coat the dough
Directions:
In a skillet over medium high heat, add onions with one tablespoon olive oil, garlic, sherry and brown sugar. Cook until softened and caramelized, then set aside.
Brush the pizza dough with 1 tablespoon olive oil, then start to layer the ingredients as such:
Spread onion mixture first, then arrange pears, goat cheese pieces, prosciutto, walnuts, Italian blend cheese, Italian seasoning, sea salt and black pepper.
Place pizza in 425 degree oven for 12-15 min, cooking time with vary based on thickness of crust and volume of toppings. Check frequently until crust is done to your liking. My family prefers a more well done crispy crust so I cook a little longer for them. Have fun with this recipe and don't be afraid to add your own touches or ingredients. you can substitute different cheese, nuts, or any other ingredients you choose!
Once pizza is done baking, take out of the oven, transfer to cutting board with a large spatula or pizza peel and let sit for 5 minutes, then top with arugula and drizzle with balsamic glaze.
Slice and enjoy!!