Twice Baked Potatoes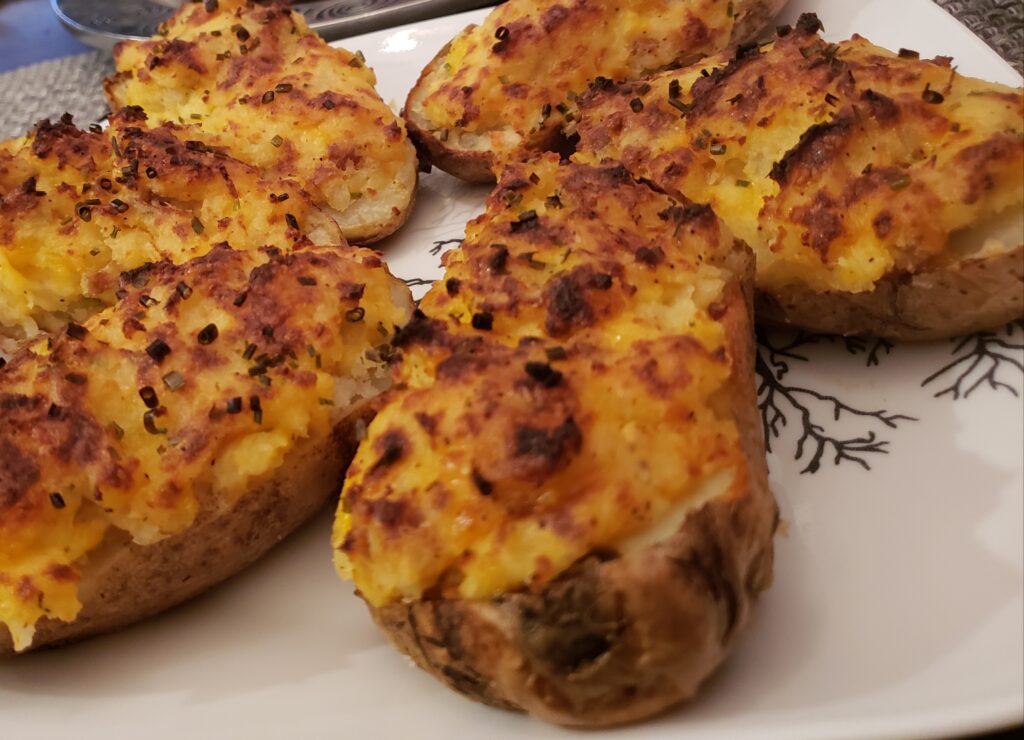 Ingredients:
4 Russet potatoes
2 cups cheddar cheese, shredded
1 cup uncured bacon bits
1 cup sour cream
3 tablespoons unsalted butter
1 tablespoon dried chives
olive oil
sea salt and pepper to taste
Directions:
Preheat oven to 425 degrees.
Wash/scrub potatoes and place on a foiled baking sheet.
Brush potatoes with olive oil until coated and lightly salt with kosher salt.
Bake potatoes for 50-60 min until fork tender.
Let potatoes cool and then slice in half lengthwise.
Scoop out the insides of each potato half into a mixing bowl, be careful not to tear the skins. Leave a small rim around each potato half for support.
Place each scooped out potato half in a baking dish and set aside.
Mash the potato insides and add the sour cream, cheddar cheese, butter, chives, bacon bits and salt and pepper and mix well.
Fill each of the potato skins with a nice heaping amount of the filling.
Place back in your 425 degree oven for 10-15 min. until melted and heated through.
As a nice finish I like to place the potatoes under the broiler for about 3 to 4 minutes until the tops get brown and a little crispy.