Hawaiian Pork Chops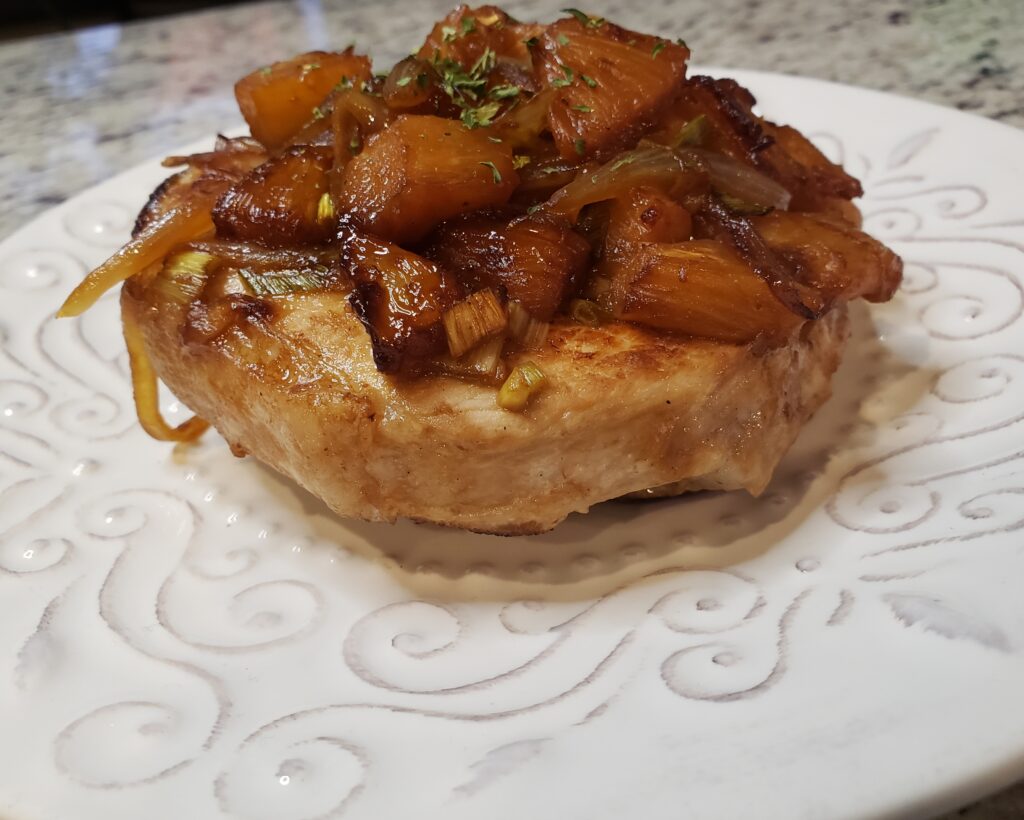 Ingredients:
4 boneless lean pork loin butterflied chops
1 whole pineapple skinned, cored and diced
1 large Sweet Onion, sliced
1 tablespoon minced ginger
2 garlic cloves, minced
3 tablespoons tamari soy sauce
2 tablespoons hoisin Sauce
3 tablespoons brown sugar
salt and pepper
4 tablespoons olive oil
Directions:
Preheat oven to 375 degrees F.
Heat 2 tablespoons olive oil in an oven proof skillet on the stove on high.
Add onions, let them cook for a few minutes, then add garlic and pineapple. Cook until onion and pineapple brown and get a little crispy.
Reduce heat to medium low, add ginger, tamari soy sauce, hoisin sauce, scallions and brown sugar until mixed well and heated through. Remove mixture and set aside.
Heat 2 tablespoons olive oil on medium-high, season pork chops with salt and pepper, then brown pork chops 3 to 4 minutes each side.
Once browned, add the pineapple mixture over the top of browned pork chops in the skillet and place in the oven, bake for 20 minutes (based on 1 inch thick chops) of until pork is at 145 degrees internal temp.
Let pork rest 5 to 10 minutes and serve.