Grilled Veal Burgers with Arugula Salad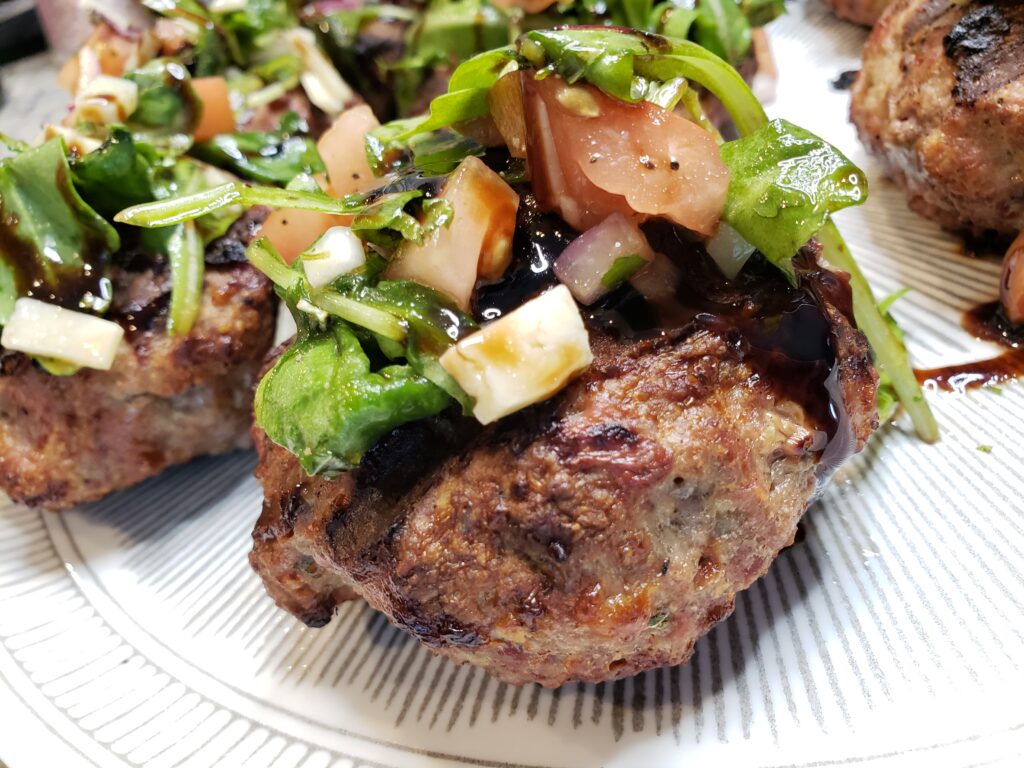 Ingredients:
2 lbs. ground veal (yields 8 burgers)
1/2 cup shredded mozzarella cheese
2 eggs
4 tablespoons chopped fresh Basil
1/4 cup extra virgin olive oil, plus 1 tablespoon
4 cloves garlic, minced
1 teaspoon crushed red pepper
1/2 teaspoon black pepper
1/4 cup Italian bread crumbs
2 cups fresh arugula
2 large tomatoes, chopped
4 ounces Locatelli ( or other sharp Romano) cheese, chopped small
1/2 red onion, chopped
1/8 cup balsamic glaze
Olive oil spray
2 tablespoons McCormick's Perfect Pinch Garlic and Herb Seasoning
Optional – 5 or 6 Portobello Mushrooms for a quick side item, see below.
Arugula Salad:
Make arugula salad first and let it marinate in the refrigerator while the burgers are grilling.
Add arugula to a serving bowl, then add tomato, red onion, garlic, cheese, 1/4 cup olive oil, balsamic glaze, 2 tablespoons basil and mix well.
Salt and pepper to taste.
Burgers:
Heat grill to medium high heat.
In a large mixing bowl, add ground veal, mozzarella cheese, eggs, breadcrumbs, 2 tablespoons basil, 1 tablespoon olive oil, 2 minced cloves garlic, red pepper flakes and black pepper. ***Do not add salt to the burgers, veal tends to be a leaner meat and you want to keep as much moisture in the burgers as you can, salt pulls moisture out***
Grill burgers 6 minutes each side, then top with arugula salad and a little extra drizzle of balsamic glaze, then serve with any bun of your choice.
**** Easy side idea, grill some Portobello mushrooms***
Simply wash mushrooms, remove stems and spray with olive oil, sprinkle with McCormick's Perfect Pinch Garlic and Herb seasoning and kosher salt. Grill on grill pan or straight on the grill rack for 10 min or until soft.