Tender and Juicy Dry Rubbed Pulled Pork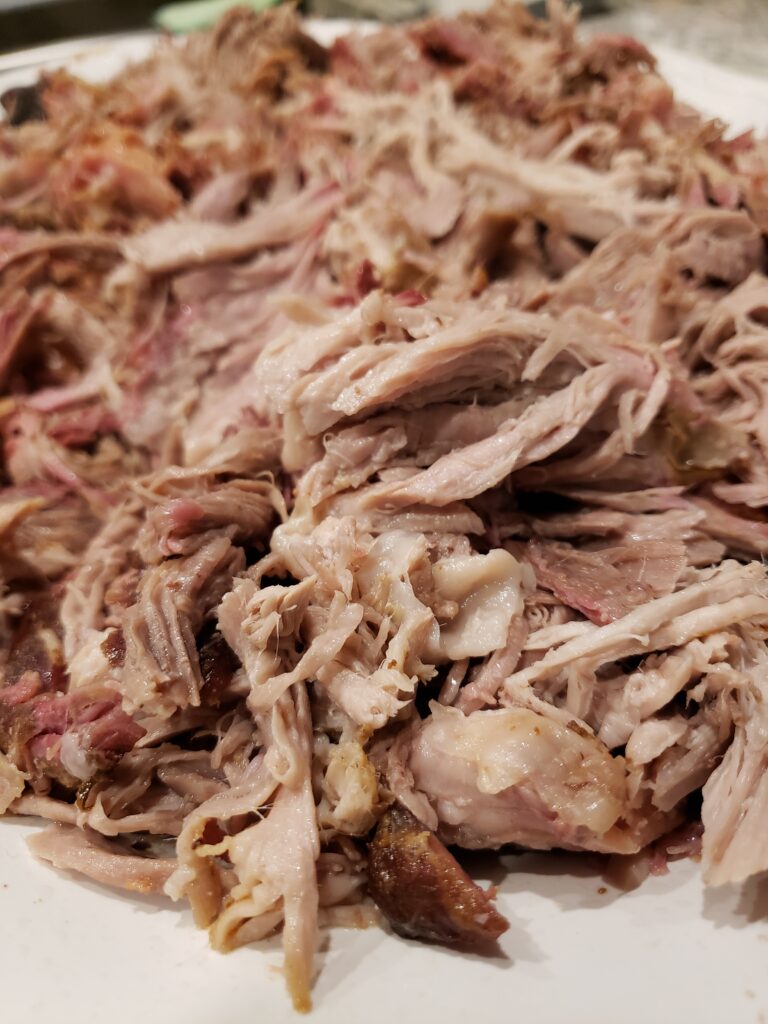 Ingredients:
6-8 lb. boneless pork butt or shoulder
1/2 cup mustard
1/2 cup brown sugar
2 tablespoons onion powder
2 tablespoons garlic powder
2 teaspoons kosher salt
1 teaspoon cayenne pepper
2 teaspoons black pepper
1/4 cup apple juice
1/4 cup apple cider vinegar
BBQ sauce of your choice
Buns
Other items:
heavy duty foil
foil pan
2 towels
empty dry cooler
Directions:
Trim pork of any excess fat if needed.
Rub pork with yellow mustard (this helps the rub stick better and provides a nice layer of flavor as well).
Mix all the dry seasoning together (brown sugar, onion powder, garlic powder, cayenne, salt and pepper and rub all over pork.
Let pork rest for 30 min. While pork is resting, fire up your smoker, grill or oven to 350 degrees. (Any of these cooking methods will work, I used my big green egg cooking with indirect heat using the convEGGtor).
Cook at 350 degrees until internal temperature reaches 160 degrees, then remove from heat and place on heavy duty foil and add apple juice and apple cider vinegar. Wrap tightly and place in a foil pan to prevent liquid dripping.
Place back on smoker, grill or in oven and cook until internal temp. reaches 198-200 degrees. Remove pork, keep in foil and place in a dry cooler, cover with towels and close cooler. Let pork sit for 2 hours in cooler (this will allow it to tenderize nicely and seal in the juices).
Remove from cooler, uncover and shred. Serve immediately on buns with the BBQ sauce of your choice. Enjoy!!