Gluten Free Italian Pignoli (Pine Nut) Christmas Cookies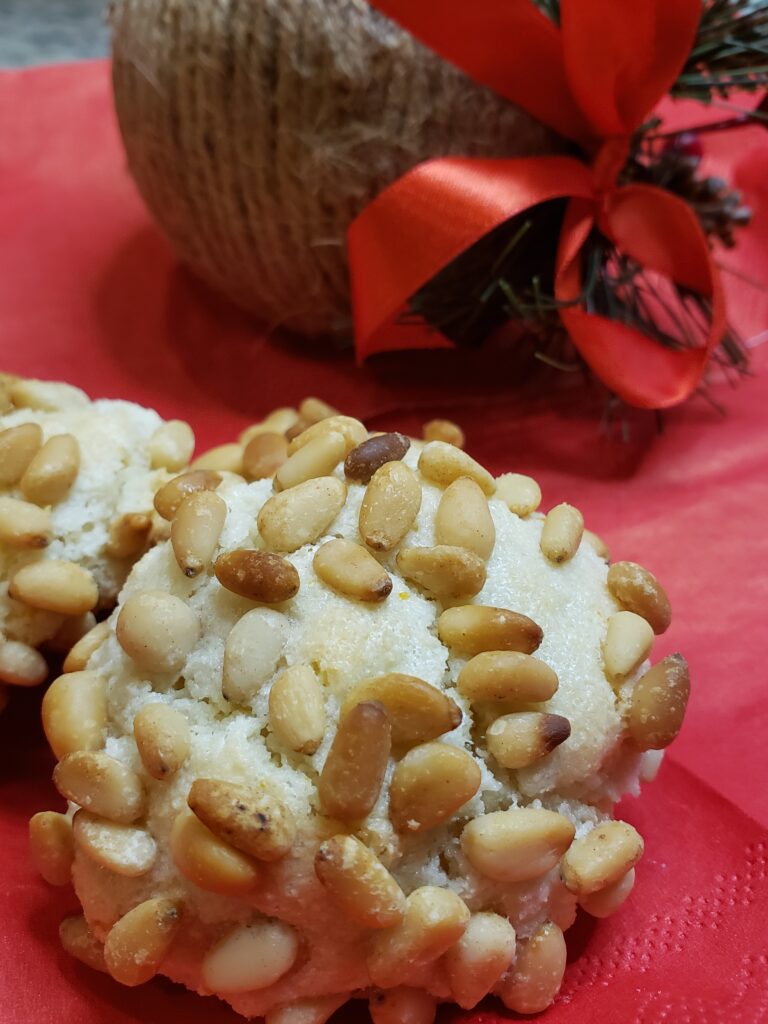 Recipe yields approximately 24 cookies
Ingredients:
16 ounces almond paste
1 cup sugar
2 egg whites
2 teaspoons of orange or lemon zest (I use orange but lemon works too)
1 1/2 cups roasted pine nuts (you can use raw but I prefer the taste of the roasted or as an alternate if you can use sliced almonds in place of pine nuts).
Directions:
Preheat oven to 350 degrees F. Line a large baking sheet with parchment paper.
In a food processor, break up almond paste into smaller pieces and pulse until paste looks like small crumbs.
Next add sugar and pulse a few more times until sugar pulls together and dough looks granular.
Then add the egg whites and zest, mix until egg whites are incorporated and dough looks smooth, about 30 – 60 seconds. Do not over mix.
Pour your nuts into a dish or shallow bowl and set aside.
Roll approximately 1 1/2 tablespoons of dough into a ball and drop into nuts to coat, you can coat on all sides or just one and leave one side without (bottom of cookie). **My family loves nuts so I coat the entire cookie**
Place cookies onto parchment paper lined baking sheet.
Bake cookies for 13-15 minutes, or until light golden brown. Cool cookies on baking sheet for 5 to 10 minutes until they firm up before transferring to a cooling rack.
Cookies will keep for 1 week in an airtight container.
ENJOY!!!!