Italian Quesadillas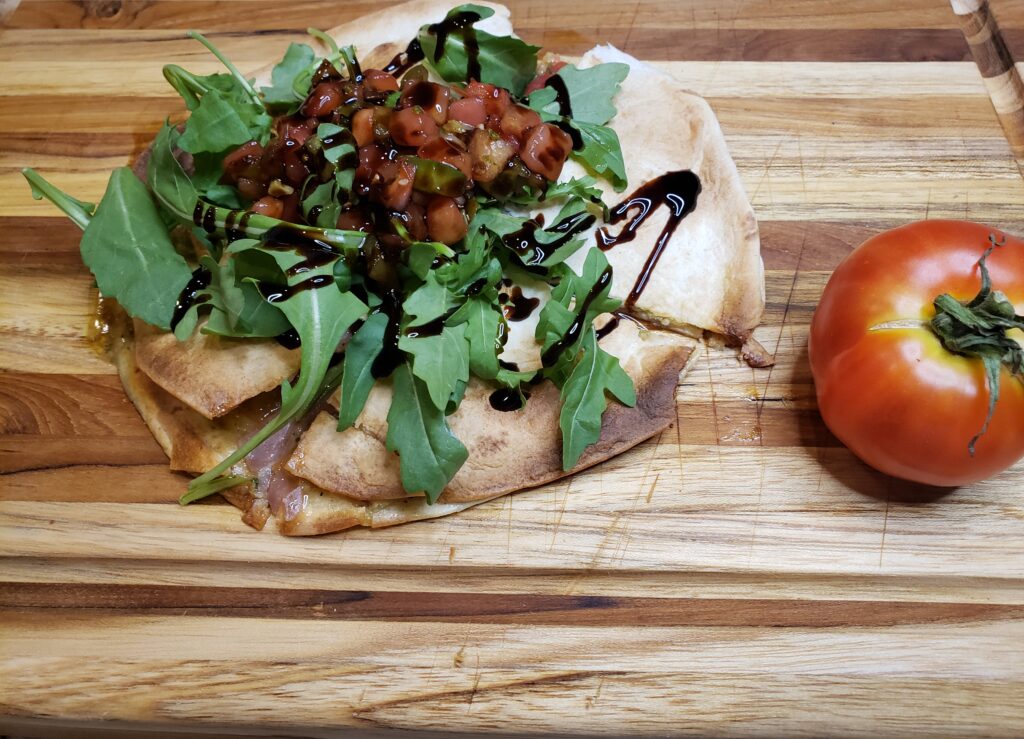 Ingredients:
4 ounces pesto sauce (store bought or homemade) – Please refer back to my Garden Fresh Pesto, Ricotta and Tomato Jam Appetizer recipe if you wish to make your own homemade pesto!
6 slices of prosciutto, chopped into small pieces
2 large tomatoes, sliced – I used fresh tomatoes from my good friend's garden…Mmmm so fresh!
6 ounces shredded mozzarella cheese
2 ounces fresh arugula
1/4 cup grated parmesan cheese
5 roasted red peppers in olive oil, sliced into strips
black pepper to taste
olive oil and balsamic glaze to drizzle
Directions:
****This recipe makes 5 to 6 Quesadillas***
Preheat oven to 375 degrees F.
Grease a large baking sheet with olive oil or olive oil spray
Place 5 or 6 tortillas onto the baking sheet.
Spread a tablespoon or so of pesto on each tortilla.
Slice tomatoes and add 2 slices to the pesto tortillas.
Next add the chopped proscuitto, roasted peppers, mozzarella, parmesan, arugula, and black pepper.
Drizzle with olive oil and balsamic glaze.
Top with another tortilla to finish constructing your tortillas.
Bake in oven for 10 min, carefully turn them over to crisp the bottom side for 5 minutes.
Lastly, and this is optional, to toast just a little more, I like to turn on the broiler to high and let them brown on the top, just 2 to 3 minutes. **Please watch carefully as they will burn quickly if left unattended****
Italian Salsa:
This is completely optional, but it adds a little pizzas to the Quesadillas.
1/2 tomato, chopped small
1/4 onion (red or yellow), chopped small
1/4 green bell pepper, chopped small
1 tablespoon chopped jarred jalapenos
1 tablespoon olive oil
1 teaspoon balsamic drizzle
salt and pepper to taste
Mix all ingredients together and add to the top of the quesadilla and add arugula to garnish. Enjoy!!